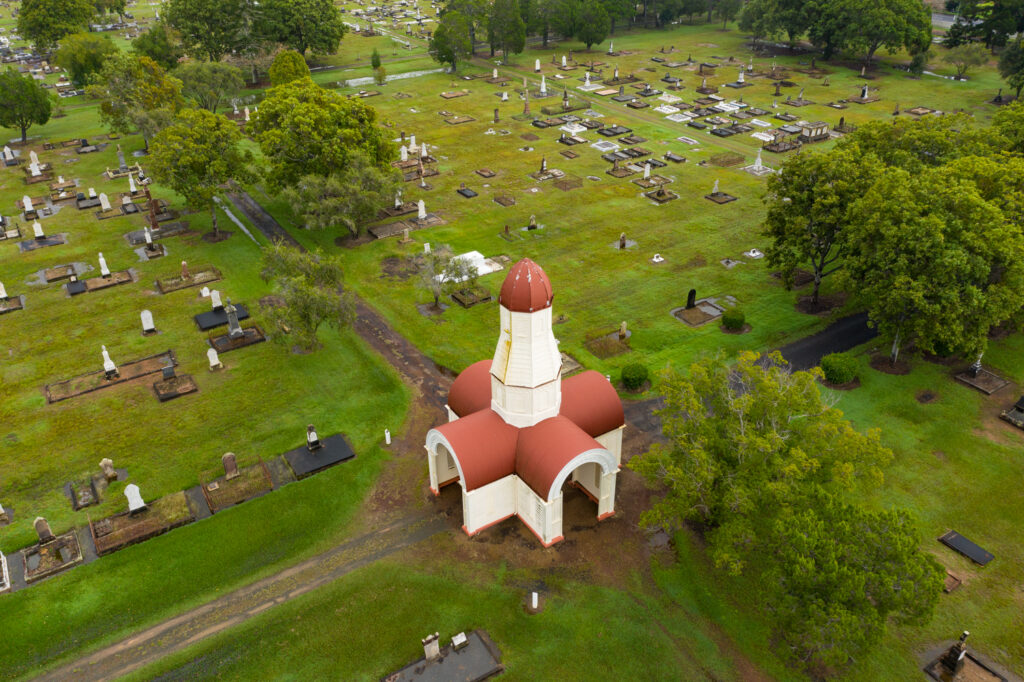 The Maryborough Monumental Cemetery is administered by the Fraser Coast Regional Council.
Established in 1873, the cemetery is commemorating 150 years of providing funeral service.
When it opened in June 1873, it was the third cemetery for the Queensland city.
The second cemetery, located on Kent St had filled faster than expected as due to the rapid movement of people to the township.
Council obtained the land on Walker Street for a new cemetery in 1871 and it opened in 1873.
When the Kent Street cemetery closed it was converted into a garden which is now referred to as the Elizabeth Park Rose Gardens (named in honour of the visit to Australia by Queen Elizabeth II in 1954).
The new cemetery on Walker St was divided into religious portions as was common practice, using various religious denominations, including Church of England, Roman Catholic, Presbyterians, Wesleyans and the Lutherans.
The total number of burials to date is 19,521.
A feature of the cemetery is the Mortuary Chapel, designed by architect Willoughby Powell, which was built 10 years after its opening in 1883.
The Chapel is prominently sited at the intersection of two principal axes within the cemetery which is laid out on a simple grid plan with a series of intersecting lanes and walkways separating the denominational sections.
The lanes are lined with established trees and other trees and plantings are found within the burial sections.
The chapel is unique and unusual representing nineteenth century extravagant appearance and has been listed on the State Heritage Register, the Register of the National Estate, the Register of the National Trust of Queensland, the Queensland Heritage Register and the Fraser Coast Regional Council Local Heritage Register.
Queensland Policeman Tommy King, who was part of the group of indigenous trackers who pursued Ned Kelly to Glenrowan Station, is buried in the cemetery. Tommy had returned to the Maryborough region before Ned Kelly was captured. He passed away peacefully on K'gari (Fraser Island).
Attached Photos, Children's Angel Garden Maryborough Garden of Rest Cemetery, Pond of Reflection Ashes Niches Maryborough Garden of Rest Cemetery, Maryborough Monumental Cemetery Mortuary Chapel, Mortuary Chapel